So in October I decided that I wanted to start planning a really big show to celebrate my 24th birthday. I asked several of my friends from around the country if they could perform.
I must say that after my birthday weekends (I celebrated for 2!) I feel extremely loved and lucky to have so many talented and beautiful friends that were willing to come from every where for practically nothing!
The line up was wonderful!
The evening kicked off with the wonderful midwest psycho sounds of Brutally Frank.
Mel, the drummer, made the whole place sing me happy birthday! It made me blush. A lot.
Next was Midwest Monster. They really made the crowd shake it! Speaking of shaking it..My dear friend, the amazing Cardinal Cyn, came out and surprised not only me, but the whole place with a really sexy fan dance!!
The Burlesque part of the evening was most definitely entertaining.
The line up went like this:
Ruby Devine (Madison)
Lu Foxxx (Tulsa)
Charlotte Satire (Tulsa)
Hottie McNaughty (Seattle)
Lydia McLane (Seattle)
Cardinal Cyn (Austin)
Kira Von Sutra (Tulsa)
Everyone was sooooo soooo soooooooo good!
I was told that it was the best Burlesque show that Tulsa has ever seen!!!
That was my plan.. :D
For this show, I worked for weeks on creating a new costume and a new routine to Led Zeppelin's "Heart Breaker."
I really feel as a performer that I am finally beginning to understand who I am on stage. To let go and be fearless. I think this act has really brought my performing to new levels. I love it.
Here is a beautiful photo taken while I was on stage performing my brand new act!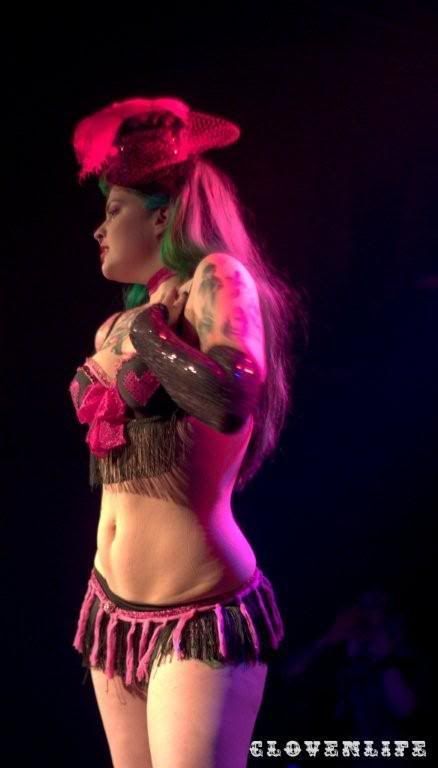 I also want to thank all of my wonderful friends, fans, and family that brought me gifts!!
You amazing people know who you are.
Thank you everyone for making this the best birthday that I have EVER had!!
xoxoxoxo
K.V.S.